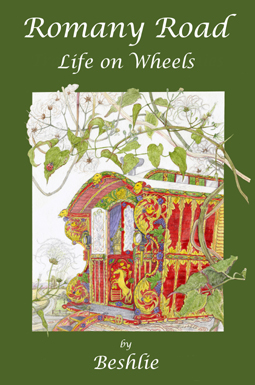 ROMANY ROAD - Life on Wheels by Beshlie
Beshlie is well known for her delightful books with their sensitive illustrations of wildlife as observed in her itinerant life with her husband Dominic Reeve, whose books she has also illustrated.
We have waited a long time for this new book. Its title was conceived forty odd years ago, and the book mostly written and illustrated in the 1960's and 70's. In this book Beshlie gives us a true insight into the Romany Life, not as an "armchair gypsy", but as a Traveller herself. Her frustration at those who write about 'Gypsy Life', or paint Gypsy scenes, without knowledge and understanding of the subject is clear. Beshlie, on the other hand, is writing of and drawing the very life she lives and experiences.
The illustrations included in this book are but a fraction of the artwork Beshlie has produced, and it is intended to publish a complimetary volume in full colour showing much more of her work. SSSSS
Soft-back 189 pages, b&w
£9.99 plus £2.01 pp = £12.00